Author Bryan Gruley and Starvation Lake Headlines Our May Events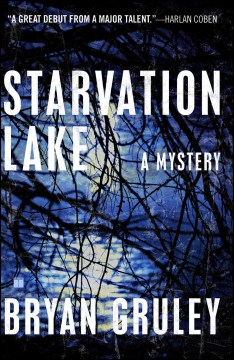 Debut novelist and award-winning Chicago bureau chief for The Wall Street Journal, Bryan Gruley joins us at Cornerstone Books this month!
Friday May 1st at 7pm
Live Music with Caroline Smith
When Caroline was a junior in high school back in Texas, her mom taught her a few chords on the guitar... and she has been writing songs ever since. Come see this enchanting singer-songwriter in a cover-free show at the Cornerstone Cafe!
Wednesday May 6th at 7pm
Free Investment Seminar with Ken Nagy
Follow the reconstruction packages of China and The United States: The governments of several countries will soon begin spending money like sailors on leave! Join Ken and find out which companies will benefit and which may be hurt, and how this may affect your investments.
Friday May 8th at 7pm
Author Bryan Gruley and Starvation Lake
In the dead of a Michigan winter, pieces of a snowmobile wash up near the crumbling, small town of Starvation Lake—the same snowmobile that went down with Starvation's legendary hockey coach years earlier. Every small town has its triumphs and disappointments, secrets and festering grudges. In the enormously accomplished Starvation Lake, debut novelist and award-winning Chicago bureau chief for The Wall Street Journal Bryan Gruley gives readers a window into the lives of townspeople shocked out of their complacency by a discovery that turns the town, and its history, upside down. Starvation Lake was an Indie Next pick for March '09.
"A wonderfully polished and assured first novel. Many good crime novels appear every month, but few have the depth and poignancy of Starvation Lake, which deserves comparison with Dennis Lehane's Mystic River."- Booklist, starred review
"A great debut from a major talent." - New York Times bestselling author, Harlan Coben
A mix of The DaVinci Code and Indiana Jones, set locally, The Cabal of the Westford Knight is sure to be a summer hit! Inspired by the legend of the Westford Knight - an effigy carved in stone in Westford, MA - the novel takes readers on a tour of 600-year-old sites and artifacts located in New England, in a plot that reveals the true secrets of the Knights Templar and the Jesus bloodline.
"Brody delves right into the historical fiction field made so trendy by works like The Da Vinci Code and picks up where they leave off. The novel is extremely well-researched and self-aware, and Brody does a terrific job of wrapping his research in a fast-paced thrill ride that will feel far more like an action film than an academic paper, though both elements are distinctly present." - Publishers Weekly
From the careful craftsmanship of the late John Updike to the timeless poetry of Robert Frost, the writers of the North Shore have left a lasting impression on the literary world. In The North Shore Literary Trail, Author Kristin Bierfelt shares the treasured homes and favored haunts of these beloved writers, revealing places of unique inspiration and the importance of home. Complete with a list of must see stops; Bierfelt offers readers the chance to view the North Shore in a completely new way— through the eyes of its writers.
Saturday May 23rd at 7:30pm
Young Adult Author Steve Kluger and My Most Excellent Year
Last Spring's #1 Book Sense YA pick is now in paperback! Romance, real life challenges and frequent hilarity follow three Boston-area teens in My Most Excellent Year: A Novel of Love, Mary Poppins and Fenway Park. Written in a series of school essays, diary entries, emails and instant messages, this novel about family, friendships, politics, baseball and musical theater (!!) is a heartwarming book for people who hate heartwarming books.
"Funny, affecting, smart and surprising, too. The climactic moment is good as a Broadway curtain call--or a neighborhood outing to Fenway." --The Washington Post
Tuesday May 26th at 7pm
Salem History Society Annual Meeting
Please join us for this Annual Year-End All-Members Meeting: Questions and Answers, Favorite Stories, and Favorite Things about Salem!!
Thursday May 28th at 7pm
Thursday's Theater of Words and Music
Thursday's Theatre of Words & Music features three to four established and emerging writers and artists to read/display/perform their work for the public at Cornerstone Books in Salem, MA on the fourth Thursday of every month at 7pm. An open mike will be held following featured writers/artists--artists are chosen by first-come-first-serve. May's featured artists will include Kevin Carey and Kim Triedman.
Friday May 29th at 7pm
Live Music with Matt Scott
Matt returns to Cornerstone for an evening of his special acoustic/folk/indie mix. Join him in the cafe for this cover-free show!
Discussions and Clubs
We've had a number of people express interest in poetry readings and book clubs. What we'd like to do is pair folks who'd like to host the club with those who want to join. Please download and complete the Event Interest Form if you would like join a group that is forming, or the Event Hosting Form if you would like to sponsor a group yourself. These forms are also available in the store if you would like to drop by and do this. Drop the form by the store, and we'll get you paired up with a group as soon as we have enough people. If you are strapped for time, you can also just send us mail by contacting us, and we'll get the information in for you.
About Cornerstone Books
Cornerstone Books, located at 45 Lafayette Street in the heart of Salem, Massachusetts, is Salem's newest community bookstore. In addition to selling books, it is a place where neighbors and visitors can meet, exchange experiences, and energize their imagination. Open 7 days a week from 10am to 9pm, with extended hours in the summer on Friday and Saturday to 10pm, it is one of the finest merchandisers of books, games, music and entertainment in the North Shore. Customers are treated to a comfortable and relaxed atmosphere with fireplace and cozy seating. The store's amenities include free wi-fi for laptops, beverages and fresh baked goods for purchase, book discussion groups, author readings, lectures, children's hour, games and even live music. Cornerstone is available for hosting local business meeting or book clubs too.